Volcano Harley-Davidson and Latus Motors Harley-Davidson are combining forces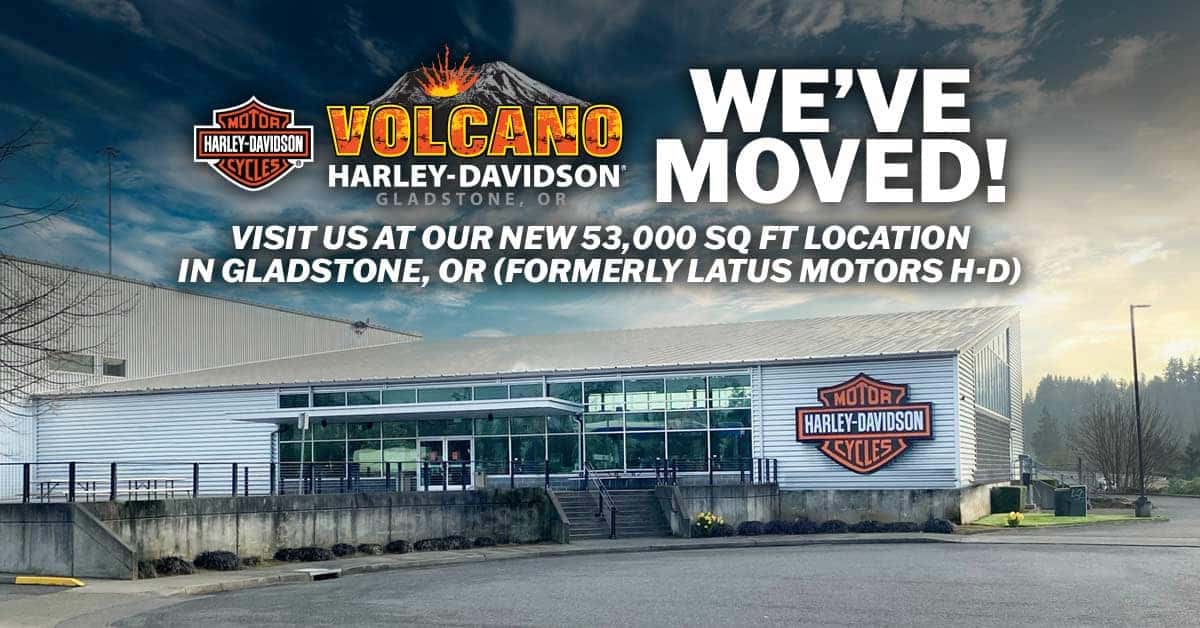 Volcano Harley-Davidson in Vancouver, WA was identified as a potential candidate for consolidation as part of a broader dealer network optimization plan in Harley-Davidson Motor Company's Rewire Initiative. Owner Michael Veracka acquired Volcano Harley, formerly Columbia Harley-Davidson, over a year ago and quickly outgrew its facility. Michael knew he had to look elsewhere to move this growing dealership so that the team could continue fulfilling dreams of motorcycling to more and more customers. He didn't have to look too far and he found Latus Motors Harley-Davidson in Gladstone, OR only 30 minutes south with a 53,000 sq ft state-of-the-art facility. Just a few weeks ago Michael was able to acquire Latus Motors and begin the transition to consolidate the two locations into one, which will also benefit customers with no sales tax in Oregon. 
While it's never easy to close such a legacy dealership, we are excited to welcome Vancouver area customers to the new Volcano Harley-Davidson in Gladstone. Michael has formally changed the name of Latus Motors Harley-Davidson to Volcano Harley-Davidson. The Vancouver location has officially closed its doors and is in the process of moving inventory, equipment, and team members to its new dealership.
The timing is optimal and will allow the employees and inventory to transfer from Vancouver into the Gladstone location right as the riding season ramps up.  Combining the staff from Volcano with the Latus H-D employees is going to give the customers the best experience with an immediate increase in staff along with increased inventory and selection.  You'll still be able to see the shining faces of the Volcano Harley team 7 days a week at the new Volcano Harley-Davidson located at 870 E Berkeley St., Gladstone, OR, just 30 minutes south of Vancouver off exit 11 on I-205S. 
The team is planning to throw some major parties to welcome everyone to the premier Harley dealership in the Pacific Northwest. The event schedule is packed with over 100 dates. Look forward to bike nights, open houses each month, group rides, bike washes, and save-the-date for International Female Ride Day on Saturday, May 7, 2022. There is no party like a Volcano H-D party!
In an effort to make this transition as smooth as possible, all Volcano H-D gift cards, and Service Plans will all be honored at the new location. The team at Volcano Harley is ready to assist in the completion of any outstanding service work and fulfillment of special orders through April 15th at the Vancouver location. 
We understand Harley-Davidson's decision to consolidate the Vancouver location comes as a disappointment to many loyal customers.  First and foremost, our team wants the community to know we hear your concerns.  As a family-operated dealership, we recognize the time it takes to build strong relationships and foster community.  The goal of Harley-Davidson's Rewire Initiative is to provide the highest quality service to all members of the Harley-Davidson community for another 100+ years. Volcano H-D looks forward to continuing to deliver a premium customer experience for many years to come at our new home. 
---
FAQ
When will the Vancouver, WA location close?
The last day of regular operation was Sunday, April 10, 2022. We are now open 7-days-a-week at 870 E Berkeley St, Gladstone, OR 97027
What will the Gladstone, OR dealership be named?
Volcano Harley-Davidson
What about Team Latus Motors Racing?
The seller of the former Latus Motors Harley-Davidson, George Latus, plans to continue the Team Latus Motors Race Team legacy.
My bike is currently in service/storage in Vancouver, WA
Volcano Harley-Davidson will have a team on-site through Friday, April 15, 2022, for bikes ready for customer pickup. Please contact us to make arrangements. Your bike is secure in the meantime!
I have parts on order at the Vancouver location
All special orders and backorders should be transferred to the Gladstone location.
Can I get Latus Motors Harley-Davidson merch?
All past, present, and future dealer custom merchandise will be available at the Gladstone location. Please pardon our dust as we work to move inventory from Vancouver to Gladstone.
I have gift cards, VIP, extended warranty, or Tires 4 Life
Volcano Harley-Davidson Gift Cards, Latus Motors Gift Cards, Harley-Davidson National Gift Cards, VIP, Extended Warranties, and/or Tires 4 Life previously acquired from either location are all valid at the Gladstone location.
I am a Vancouver HOG Chapter Member
The Volcano Harley-Davidson marketing team and HOG Directors from Rose City HOG Chapter and Vancouver HOG Chapter will be working together with the HOG National Contacts to ensure active local HOG members are supported. With Volcano Harley-Davidson, you never ride alone!
Why is Harley-Davidson consolidating dealerships?
Harley-Davidson is trying to build stronger dealers that allow us to better serve our customers for the short and long term. Having fewer dealerships allows each dealer to invest more in facilities, offerings, and events that lead to a better customer experience. With Gladstone, OR being only 30 minutes away from Vancouver, they felt the area can be served with one dealership
Are you hiring?
Yes! You will see many familiar faces from the former Team Latus and Volcano-Vancouver locations under the new Volcano Harley-Davidson roof in Gladstone. As we are expecting record growth this year we are looking to add to our already talented team. Check our careers website for more information or to apply today.
---
I have another question or concern